Replacement Window Services
Our replacement window services for cloudy double glazing in Chigwell are coming through in high volumes this summer.
Lots of double glazed units are becoming steamed up between the panes, in Chigwell and Ilford.  Misty Glaze are ready to replace the glass only and never the frames.
Our most recent project was to replace cloudy units in a large detached Chigwell property just on the edge of Ilford. 7 x Diamond leaded units that were cloudy between the panes, in timber frames. We matched the lead patterns, and manufactured the new double glazed units.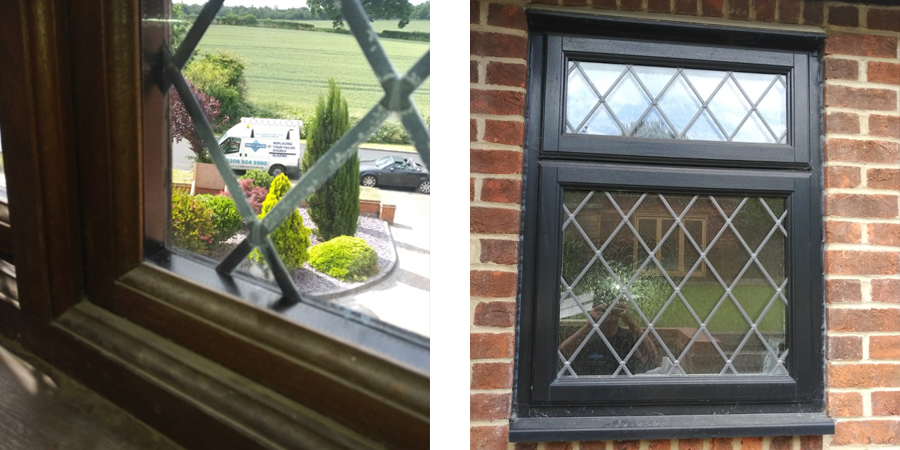 Within 1 week from our site survey, our installation team returned to install the new glass units, the results were very satisfying for us, and our Chigwell client was very happy that we managed to restore their Ilford and Chigwell countryside views.
If you require your windows and doors to go from cloudy to clear in the Chigwell and Ilford areas, give Misty Glaze a call today and be confident that we only ever replace the cloudy double glazed units, and never the frames.
This service is not only cost effective, it is also very quick, saves time, and also saves the hassle on having to render or paint your property again, as there is zero disturbance to the existing frames.
Cloudy Double Glazing
Misty Glaze Chigwell are becoming the first choice for replacement window services.  If you find you have cloudy double glazing on your windows. Send us a photo of your glass units today, and take advantage of a free no obligation quotation on the same day.
3 reasons to use Misty Glaze for your window replacement:
Cost effective, we never replace the frames, so a glass repair is always cheaper than having to replace everything.
Frames last forever, and it is very rare to find a defected frame, it's always the glass that becomes faulty, as it is double glazed, every unit will eventually fail and become cloudy.
The process is very simple, clean, and affordable, and also very quick, with every cloudy glass replacement taking on average between 5 to 10 minutes, this is a very time affective solution to your failed double glazing problems.