Secure your home with secure laminated safety glass
It's that time of year again when the dark winter nights are drawing in around Buckhurst Hill, Loughton and Chigwell, known as the golden triangle of Essex.
Unfortunately burglars are out in force again this year and once again Misty Glaze has found double glazed units are being targeted to gain entry to homes.
One of our latest call outs was to a ground floor apartment in Buckhurst Hill, Essex. On the 31st October, Halloween and at 9.30pm our clients were in bed, when they heard very loud banging, at first, they thought it was fireworks outside. Due to the celebrations this time of year with Halloween and Bonfire Night/Guy Fawkes Night.
Assessing the damage
It was soon apparent that their worst fears were unfolding when they realised 2 intruders were trying to break through there lounge window. When the apartments were built, the glass specifications were made with 6.4 safety laminated on the external pane. Many glass units are toughened safety and when attacked, broken into very small pieces. Leaving a large void for easy access in and out of the property for the burglars.
On this occasion the 6.4 laminated safety glass (just like a car windscreen) was proving very difficult and very noisy for the burglars to get through.
This laminated security glass made all the difference for a very frightening scenario for our clients. If laminated safety glass was NOT installed within the existing window frames. The homeowners would have come face to face with 2 burglars within their apartment. A very scary experience for anyone to have to deal with, especially a couple with a young child or elderly person living on their own.
Misty Glaze recommend that all ground floor windows and doors are upgraded from toughened safety glass and standard float glass, to laminated safety glass.
Literally unbreakable
The glass specifications have 2 pieces of 3mm glass, bonded together with a 0.4mm interlayer. Making the glass considerably more difficult to break through, as when broken, the glass stays bonded together by the center interlayer.
Our highly skilled installation team was on site within 30 minutes after taken the emergency call from this lady, we even managed to get a brand new security laminated double glazed unit manufactured from our suppliers within 4 hours, and we secured the home on the same day, we have the operational capabilities to serve Loughton, Buckhurst Hill and Chigwell with our rapid response glass replacement service.
No costly board up for this client, brand new unit measured, made and fitted all within 5 hours from the first telephone call.
Benefits of having the laminated security glass
The picture below is from the attempted burglary that took place with laminated security glass.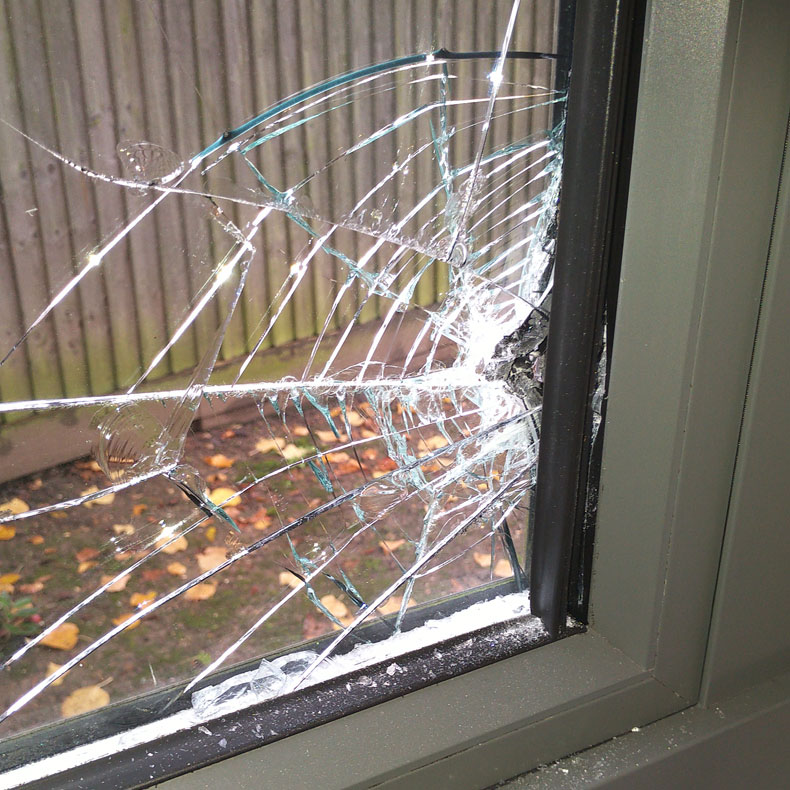 The picture below shows a broken toughened safety glass window. Unfortunately this client was not so lucky.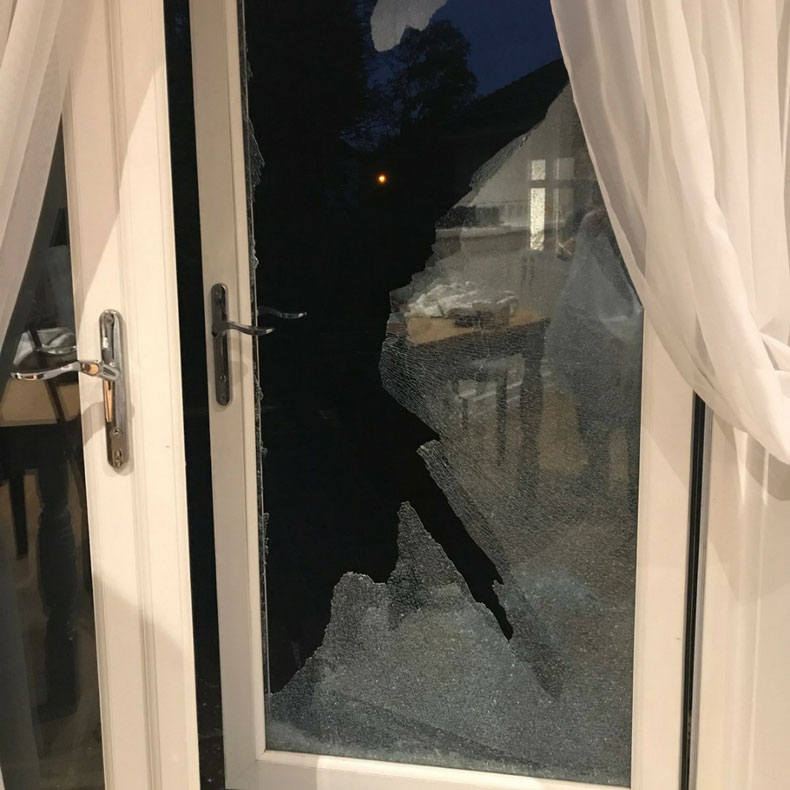 Upgrade your ground floor windows and doors today with our cost effective glass replacement services. The glass can make all the difference.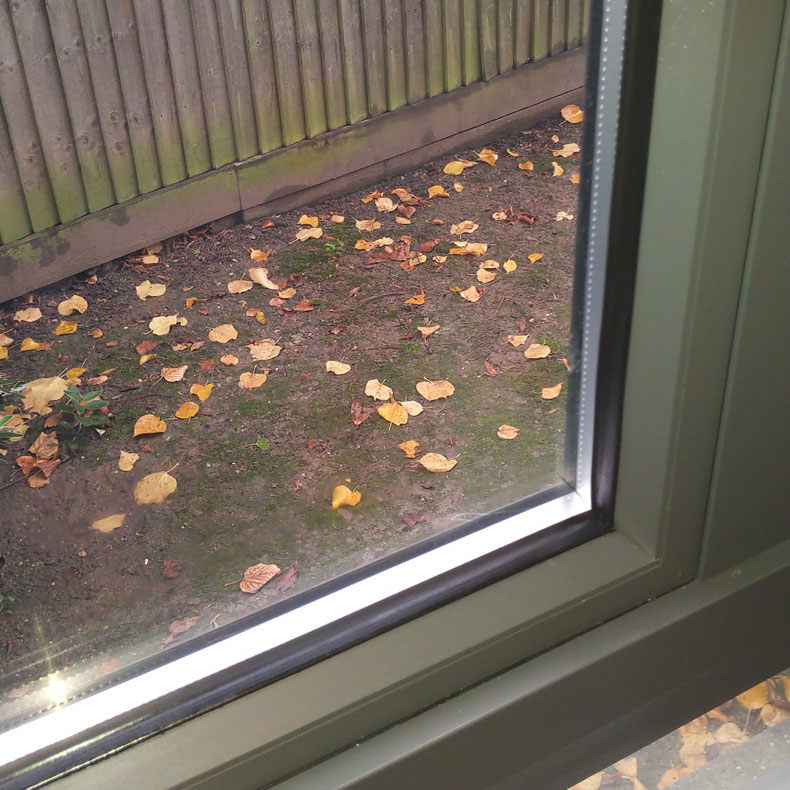 Remember, Misty Glaze only replace the panes, never the frames, no need for costly frame replacements.
Your home may already have safety laminated glass inside the existing frames. Our laser equipment identifies the type of glass within a window or door.
Step by step process below:
We arrange a suitable time to come and inspect your glass units and then take some sizes. If the existing glass units have been made in security laminated safety glass, there is no need to invest in new units. There are no hidden call out charges and our estimates are completely free of charge. There is no pressure when placing orders with Misty Glaze.
The estimate is sent via email for the glass unit upgrades.
Once the go ahead is given by our client, the order is placed and our manufacturers proceed to make the security double glazed units. Each double glazed unit is a unique size, and will be made specifically for the existing frame size, and thickness etc.
Delivery time is usually 5 to 7 days and our highly skilled installation team will return to fit the new glass units into the existing frames.
We are now offering 50% discounts to all OAP, as our priority is to keep burglars out of homes.
Misty Glaze securing Loughton, Buckhurst Hill and Chigwell. We are here to help you protect your home with secure laminated safety glass units.