It's officially broken window hinge season!
At Misty Glaze during the winter months, we notice a huge increase in drafty (cold) window job leads, often caused by broken friction stay window hinges!
See if you have broken window hinges?
Are your windows stiff to open and close?
Have you noticed that one of the rooms within your home always seem cold?
Notice drafts and cold air coming through the opening of the window?
Why not do the credit card test as per the Misty Glaze video below. This simple home test can be done by anyone and a hinge specialist isn't needed at this point just to identify the issues. The below simple test will diagnose if your window needs the Misty Glaze hinge doctor service!
Broken hinges will waste unnecessary energy and money
The energy crisis continues to rip through the UK and the cost of living is becoming very tough for everyone now. No one wants to use up unnecessary amounts of energy and money, trying to heat a room up that clearly has drafts coming through the windows, due to broken hinges.
A broken window hinge will always leave a gap and air will always come through the window. Your home will never stay warm if you leave a pair of broken window hinges unattended too. This means higher energy costs and simply just a cold unaccommodating room.
Thermal imaging camera technology
The Misty Glaze hinge doctor can show you just how much energy loss that can escape through a broken window hinge. We have the latest thermal imaging camera technology that can show you exactly the difference in room temperature and surface temperature.
Take a look at this thermal imagery that we took from this window that had broken window hinges and then look at the after image. This room dramatically increased in temperature just by replacing the affected hinges.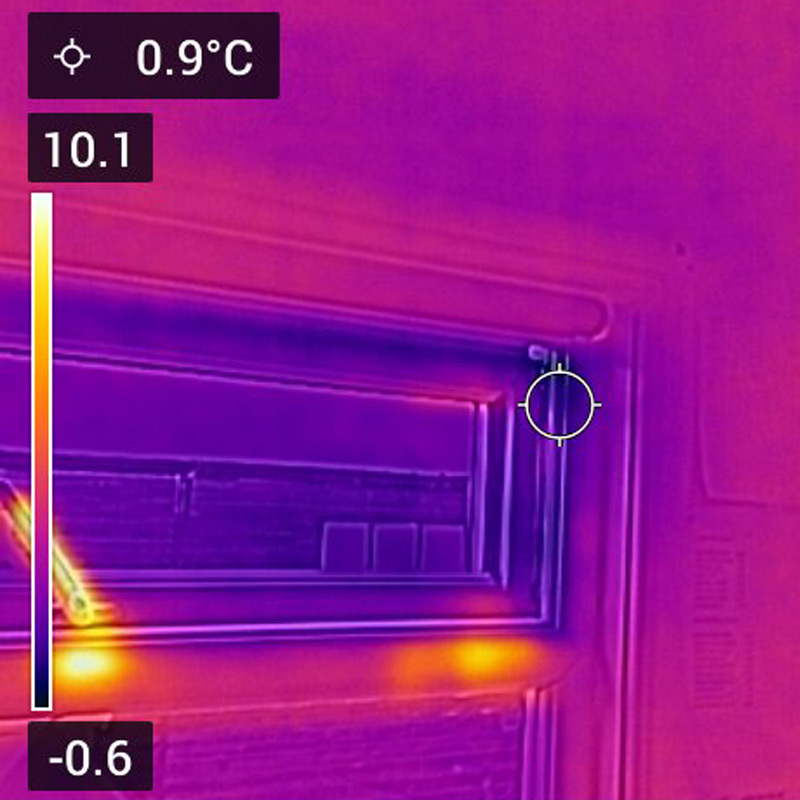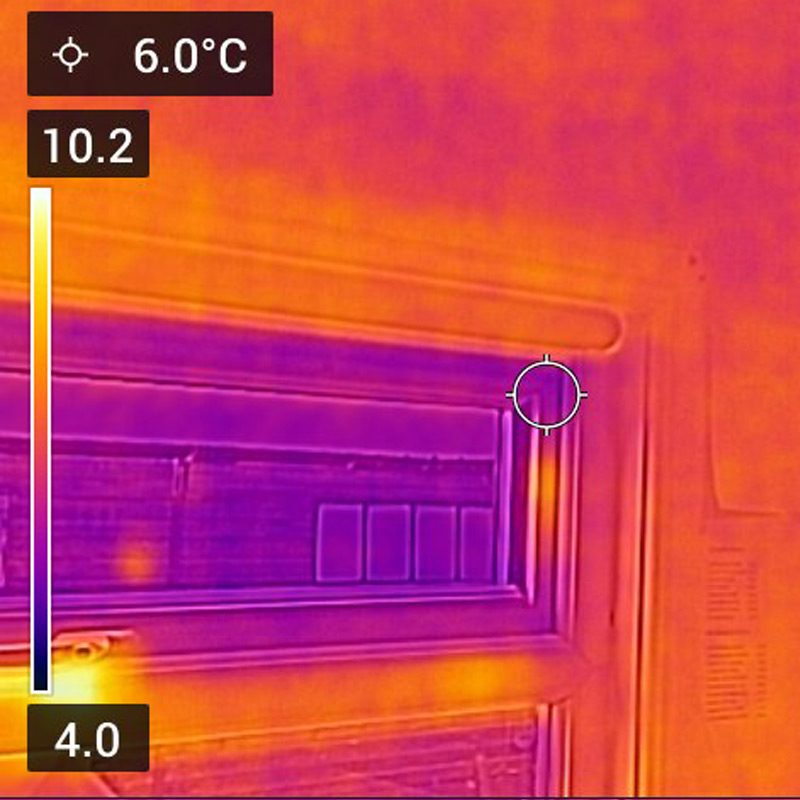 The team comes prepared
Our vans are always fully stocked with all sizes of window hinges, we have the following:
Side Hung Window Hinges
Top Hung window hinges
13mm and 17mm Stack Window Hinges
This may seem like a simple job and the parts can be brought from your local DIY store for less than £10, but an experienced glazier is always recommended to carry out broken window hinge replacements.
Let us tell you why
Many windows are very heavy when they are unscrewed. This is due to the glass and reinforcing within the window, which is very difficult to fix back into position after swapping the window hinges over. Unswrewing a window often needs two operatives with glazing suckers or sash-mate equipment to do this safely. Getting these back into position can also  result in the window dropping out of the room and breaking on the floor (potentially causing considerable damage).
Another reason to call in the experts is the window screws often being too close to the glass. Attempting to replace the screws can results in a costly glass unit replacement.
Lastly, not all hinges are screwed back into the same position. To set these to work correctly can also be very problematic and will result in bringing the window in and out multiple times just to get it right. This coud cause the screw holes to become too big for the window and the fixings to no longer fix into the frame.
So, with all these above problems, you can see why many people call the professional Misty Glaze hinge doctor to carry out the works for them. It may look simple when we do this kind of repair, but we have years of expereince and on the job training, as well as the dedication of the Misty Glaze team.
Next time you notice one of your rooms just doesn't seem to retain the heat or maintain a comfortable room temperature. Carry out the credit card home test and identify within minutes, to see if your window hinges are broken!
Misty Glaze is dedicated to saving our clients money on the energy bills by offering this very popular broken window hinge service.
Have you noticed a draught coming from your windows? You may need a window hinge replacement. Call Misty Glaze today for your failed double glazing fix!